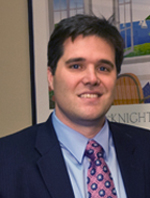 Franklin practices commercial real estate, litigation, real estate finance and lending, residential real estate and municipal zoning and permitting.
Transactions: As a litigator and advocate, Franklin represents clients in state courts and in front of municipal boards and commissions. While still a law student, Franklin was selected for an internship with the International Criminal Tribunal for the Former Yugoslavia in The Hague where he assisted in the prosecution of several high profile military and political leaders, including Slobodan Milosevic.
Franklin's transactional work involves commercial and residential real estate acquisitions and sales of properties located throughout the United States including VTT Properties' acquisition of multifamily properties in Oklahoma and North Carolina and Paragon Properties' acquisition of apartment and office properties in Massachusetts.
Education: Johns Hopkins University (B.A. International Relations) 1998; Boston College Law School (J.D.) 2006
Admissions: 2006 Massachusetts; 2007 United States District Court for the District of Massachusetts; 2006 United States First Circuit Court of Appeals
Community: Franklin currently teaches courses on the 1st Amendment, media ethics, and the law of war at Harvard University's extension and summer schools. He is a member of the Massachusetts Bar Association and Boston Bar Association.
Little known facts: Prior to law school, Franklin served on active duty as a Captain in the United States Marine Corps and deployed in support of operations throughout the Mediterranean and the former Yugoslavia. He has lived overseas in Holland, Russia, and Turkey.
Email Attorney Franklin J. Schwarzer II